The THS Girls Soccer season opening game for Thursday, September 2 has been postponed to a later date still to be determined.
Tomorrow is the first day of school, 9/1/21! It is a White Day. Students are not going to TFA or Region 9, all of our students stay here on campus tomorrow. Those programs start Thursday. There is one lunch option: Chef Kimball has prepared pulled pork sandwiches, pasta and potato salad, and watermelon. We are having an outdoor bbq for the staff and students.
Anyone going to the THS Football tomorrow (Friday, August 27) the game will be at the old Livermore Falls HS Field, not at Spruce Mountain. Game starts at 7pm Go Rebels!!

Video of Monday's SAD44 School Board Meeting - The following link will take you to a Western Hills Access Television recording of Monday nights's meeting of the MSAD 44 School Board. Please note that following the Pledge of Allegiance, the recording inadvertently switched over to regular programming for a short period of time. It picks up again at approximately the 8 minute mark as the Citizen Comments section of the agenda was underway. Thank you to Josh Morton and Westen Hills Access Television for providing us with this link in advance.
https://www.youtube.com/watch?v=ABS947cwSkQ
We are still looking for fall sports participants, and it is not too late to join! Girls soccer, field hockey and cross country running teams are looking for members to field complete teams. We would also like to field a boys soccer team and need at least 13 boys to sign up. Practices are at 5:30 each night on the fields for soccer, field hockey, and football this week. XC will meet again on Monday, August 23rd from 5:30-6:30pm. Physicals need to be on file and athletic participation paperwork is still available for HS and MS students under the front canopy at the main entrance to the school 24/7.

MSAD #44's Annual Child Find Notice - MSAD #44 has a legal responsibility under the Individuals with Disabilities Education Act to locate and identify all school age children (ages 5-22) within the district who may require special education services due to an educational disability. This includes students who are attending public and private schools, and who are homeschooled. Children may be eligible for special education under the following disability categories: Autism, developmental delay, emotional disturbance, multiple disabilities, other health impairment, specific learning disability, speech or language impairment, visual impairment, hearing impairment, deaf-blindness, orthopedic impairment, traumatic brain injury, and intellectual disability. If you have a school-age child or know of a child residing within MSAD #44 who may have an educational disability and may need special education services please contact Jeanne Cordeiro, Director of Special Services, at (207) 824-2136 ext. 1309. If you have a child between the ages of 3-5 who you suspect may have a disability that requires special education services, please contact Child Development Services (CDS) Opportunities in Oxford at (207) 743-9701. Full Notice here:
https://5il.co/xe6e
Athlete paperwork for 2021 fall athletes, MS and HS is available under the front canopy at Telstar in a Rubbermaid bin on a desk 24/7. High school students, please bring the completed papers with you on Monday night , August 16th at 5:30pm to the first practices for high school only. You can come even if you did not sign up in the spring. MS can bring paperwork in on the first day of school. The first middle school practices are Thursday, September 2nd after school. ALL students need to have a physical on file with the nurse in order to play. There is no more grandfathering clause due to COVID. Thank you and good luck!
SAD #44 will not be delivering meals on Monday July 5th, as we will be observing the July 4th holiday. We will deliver two days of meals on Tuesday July 6th, and will deliver again on Thursday July 8th. We hope everyone has a great 4th of July weekend!
Congratulations to all of our students who finished the year with a very positive second semester. Job well done!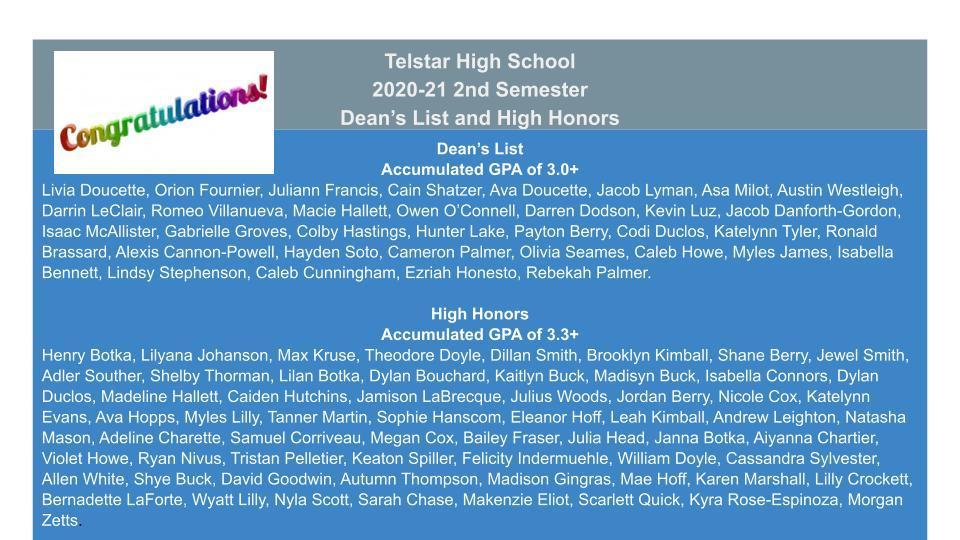 Meals for July 1st and 2nd will be delivered on Thursday, July 1st, not on Wednesday, June 30th. We apologize for any inconvenience. Thank you! Ryan Kimball, SAD #44 Food Service Director.
Tomorrow, Thursday, June 17th is our last day of school for students. Dismissal is at 11:30am. Tomorrow is the final day when all in person students need to turn in their laptops, chargers, long cords, duck heads and cases. For our remote students, you may bring them in on Friday, June 18th between 8-2pm. Thank you for a great year and take care this summer!!
From WHAT TV: So I noticed some very brief (but annoying) interruptions in the live stream Thursday night, this interruption did NOT occur on our Youtube Broadcast. Only our TV broadcast and associated livestream page were affected, I think because there are additional steps in the signal chain. This does not by any means make those broadcasts unwatchable, but to be safe I wanted to make clear that as far as today goes Our YOUTUBE CHANNEL WILL HAVE THE BEST QUALITY STREAM Again we will be broadcasting to spectrum 11 and our livestream page, but I think YOUTUBE will look the best. Hope this is helpful. Josh
THS Softball playoff game, tomorrow, Thursday, June 10th at Madison will be played at 1pm. Good luck Lady Rebels!!!
Hello, I would like to provide the info for live Streaming graduation events. This Year Western Hills Access Television will be Simulcasting Live to Spectrum channel 11 and 1302 We will be also Streaming on Various platforms, all easily accessible from our NEW WEBSITE
https://www.westernhillsaccesstelevision.org/
also optimized for mobile devices. From our new website
https://www.westernhillsaccesstelevision.org/
Viewers can choose to watch on our livestream page via the WATCH NOW button, or from our youtube or facebook pages. Additionally if You have a ROKU tv or device you can watch Live by downloading the SCREENWEAVE app on your ROKU and searching for western hills access television. I hope this is helpful, Please share the link to our website far and wide. Thank you and congratulations to the Class of 2021!
Summer Meal Program Update: SAD44 is able to offer summer meals to students who live in the district ages 18 and under again this year. Please call the office 824-2136 to sign up before the end of this school year for meals and select pickup or delivery options. Thank you!
No girls softball practice today, Wednesday, June 2.
Today's girls softball game with Lisbon has been cancelled. Sorry for any inconvenience. The girls will have practice instead.
Tomorrow's HS Boys baseball game at Winthrop (6/1) start time has been moved from 4pm to 3:30pm.

The COVID vaccine clinic at Stephens Memorial Hospital is open Mon -Wed- Fri and is accepting walk-ins. The Pfizer vaccine for students 12 and over is available from 11:30 to 5:00 on those days.

A reminder for students who received the first vaccine dose. The second dose will be given Tuesday June 15th from 8:00 - 9:30 at Telstar. It is important to receive the second dose to be fully protected against the COVID 19