MSAD #44 School Board Meeting: Monday, Sept. 25, 6:30pm in the Telstar Library. The agenda is available here:
https://5il.co/25f14
With the storm approaching, the call has been made to postpone the high school sporting events scheduled for tomorrow, Saturday 9/16. The girls soccer game vs Madison has been moved to October 11th @ 3:30. The Football game is going to be played Monday 9/18 at Home at 3:30. The boys soccer game has also been postponed. We are waiting for a make up date with Pine Tree.
High School Soccer Update; Thursday 14th at Dirigo High School Update Time: Girls @ 4:00 Boys @ 5:30

THS Guidance Office would like to inform students and parents/guardians of an upcoming Military Academy Seminar for interested individuals in the application process for the United States Military, Naval, Air Force and Merchant Marine Academies, state maritime academies, as well as private military colleges and the Reserve Officer Training Corps (ROTC) programs. DATE: Thursday September 14, 2023 TIME: 6-8PM (Registration begins at 5:30PM) LOCATION: Clarion Hotel 1230 Congress Street Portland, Maine 04102 There will be brief presentations by representatives from various organizations, as well as the Army and Air National Guard. Congressional aides from our offices will also participate and explain the congressional nominal process. Individual presenters will be happy to answer questions throughout the program; It would be helpful to pre-register with Maine Maritime Academy by phone: (207) 326-2207or email:
admissions@mma.edu
. You can also confirm attendance at
https://bit.ly/43QQlzZ
. Pre-registration is not required however, and walk-ins are welcome.
Telstar Project Graduation 2024 LET'S CELEBRATE! If you aren't sure what Project Graduation is, we wanted to share what the event's purpose is. Project Graduation provides a safe atmosphere for our graduating seniors. The event starts after graduation and runs until the following morning. It will be held on June 7th, 2024. It is a huge undertaking that requires many hands and support to pull off. The planning for this event begins on September 11th at Telstar's Learning Commons. This is also known as the school's library. Thankfully, we will have one of the coordinators of last year's Project Graduation in attendance. Project Graduation meeting will be held at the conclusion of the athletic booster meeting, which will be held in the same location and starts at 5:30. Therefore, we hope to start our meeting at 6:30. If you are unable to attend, please consider joining us through zoom. Please spread the word. Many hands make the work lighter. This will be a great success for our graduating class of 2024. Amy Lilly - Project Graduation
High school parents and guardians please check your email for an updated letter containing basic information and some dates. Please never hesitate to contact the office if you have any questions. Thank you, John Eliot - THS Principal

2023-2024 Bus Routes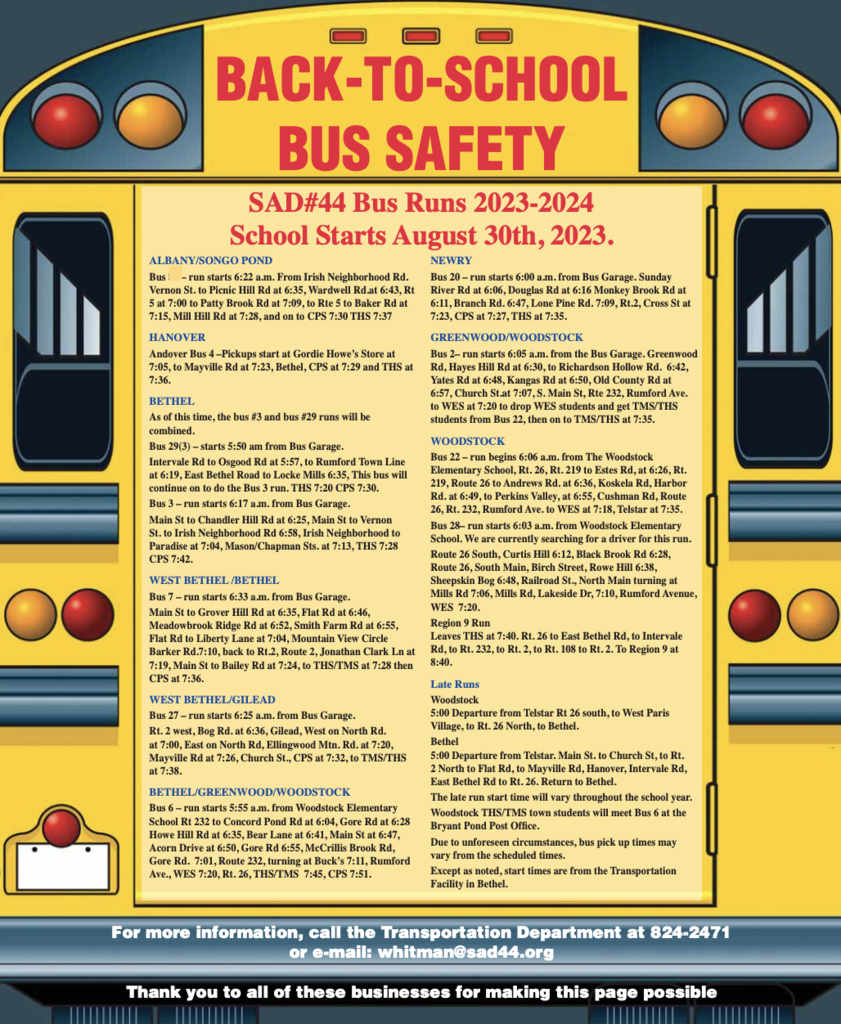 Telstar High School fall sports season will begin on August 14th at 5:30pm rain or shine for all sports teams. Paperwork will be provided or you can download it from our website. Please make sure your athlete's physical is updated and that the school has a copy of it.

Telstar High School is still looking for some coaches this fall. THS Assistant Football (2 positions) THS Assistant Boys Soccer Coach THS XC Running Coach If interested please contact Gail Wight at (207)890-3523 or email at
wightg@sad44.org
Preseason starts August 14th! Thank you.
Community Celebration for Dr. Murphy for his years of dedication and service to MSAD #44. Ice cream social event: Tuesday, June 20, at Telstar Middle/High School, 5:00 PM to 6:30 PM.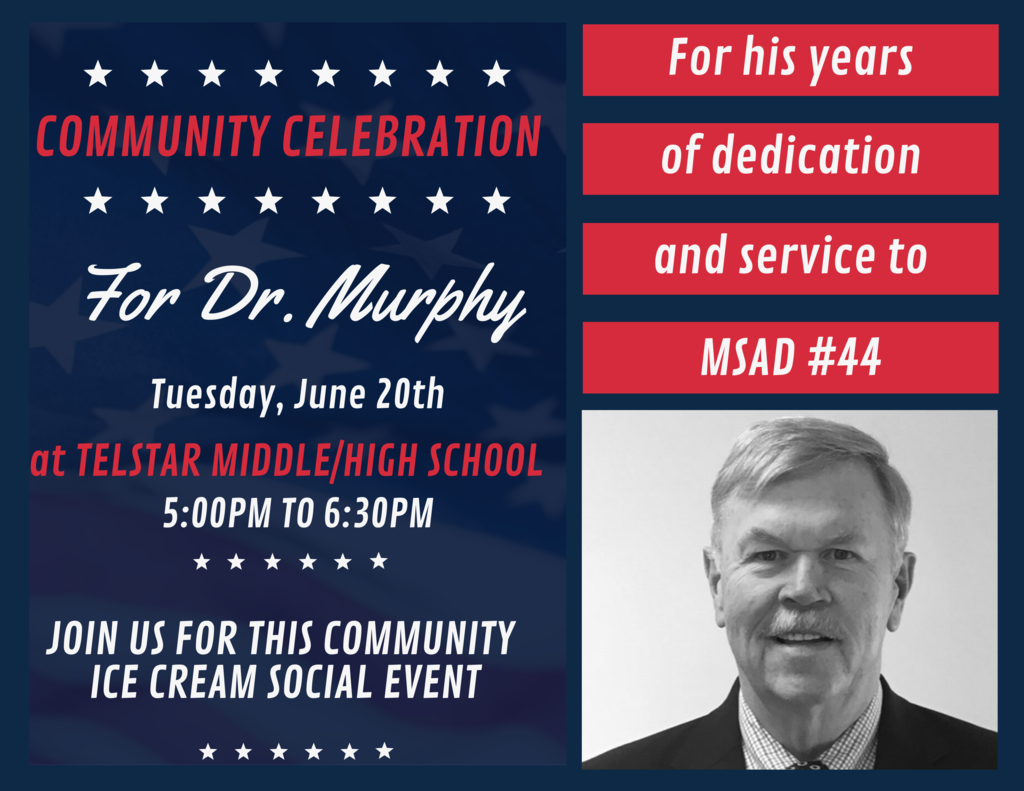 The THS Girls Softball playoff game vs Winthrop tomorrow (6/6/23) at 1:30pm will now be played at Kent's Hill School due to the wet field conditions at Winthrop HS. 1614 Main St Kents Hill, ME 04349 Good luck ladies!!!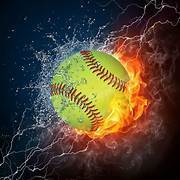 THS Softball Playoff game at Winthrop, Tuesday, June 6. Game starts at 1:30pm. Good luck ladies!!

Today's THS Softball game at Buckfield has been postponed until Tuesday, May 30th at 4:00pm. There is no softball practice tonight.

Project Graduation is hosting a fundraiser car wash this Saturday, May 27th from 10-1 at Mac's Car Wash in Bethel. Please consider coming by to get your car washed or make a donation!

Monday May 15: HS Baseball and Softball Home Game vs Mt. Valley 4:30pm Start time instead of 4pm. Mt. Valley has transportation conflicts....

Region 9 has two upcoming student remote days where no one is to be at their Mexico campus. Tuesday, May 16th and Tuesday, May 23rd Students should look for Google Classroom messages from their teachers about work expectations for those two days if their programming is affected.

Saturday May 20th: Double Header High School SB/BB Games at Telstar- Mt. Abram at 11:00 Winthrop at 2:00 NO extra innings for JV- sorry...

Today's HS baseball and softball games at Telstar vs Winthrop have been postponed due to the wet field conditions. Makeup days have not yet been determined. Thank you.

Today's Games Rescheduled: Mt. Abram at Mt. Abram High School- No JV innings Saturday May 20th 11:00 Bus will depart at 8:45.