Please consider joining us tonight for the Telstar PTA meeting!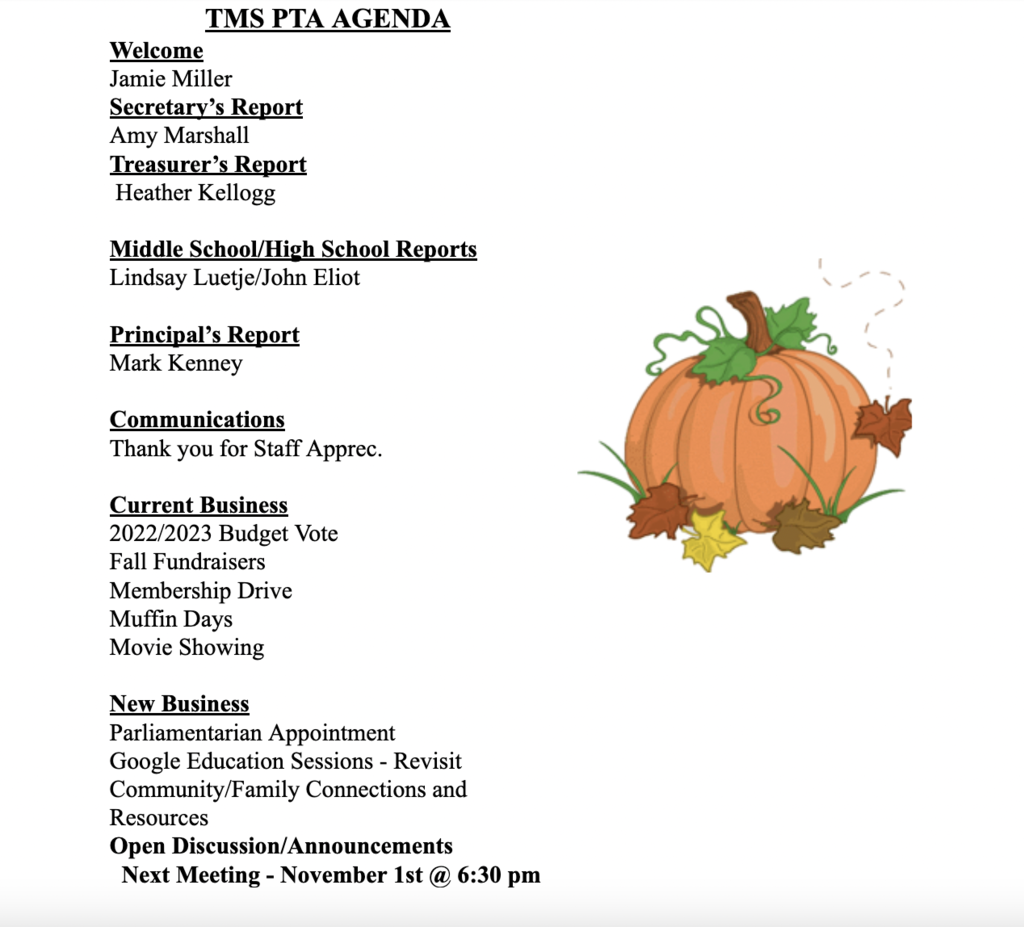 There is no high school soccer game at Carrabec today, Sept. 22 and no cross-country race at UMA. There is also no soccer or field hockey practice
The Telstar PTA has reopened the clothing store site for those who might have missed it before school started. It is open until September 25th. All orders will be delivered to Telstar for pickup once they are done, usually 2-4 weeks after the order window closes.
https://geeandbeesports.itemorder.com
Code: TPFBX Thank you for your support and enjoy your gear!!
Please consider joining us for the first PTA meeting of the year at TMS/THS tomorrow night!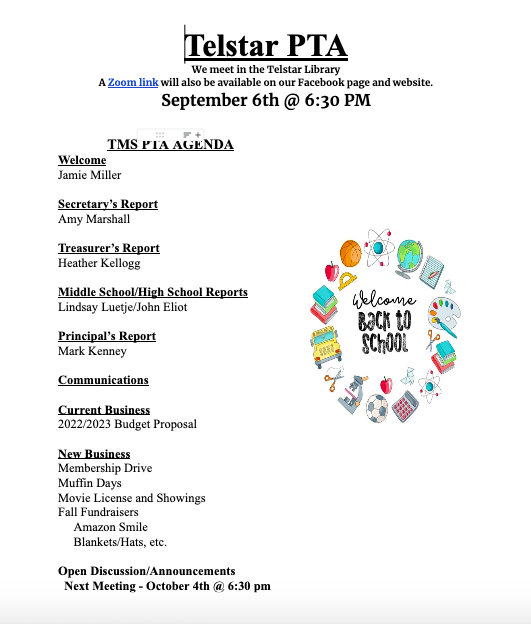 Here is the September menu from Chef Kimball for Telstar.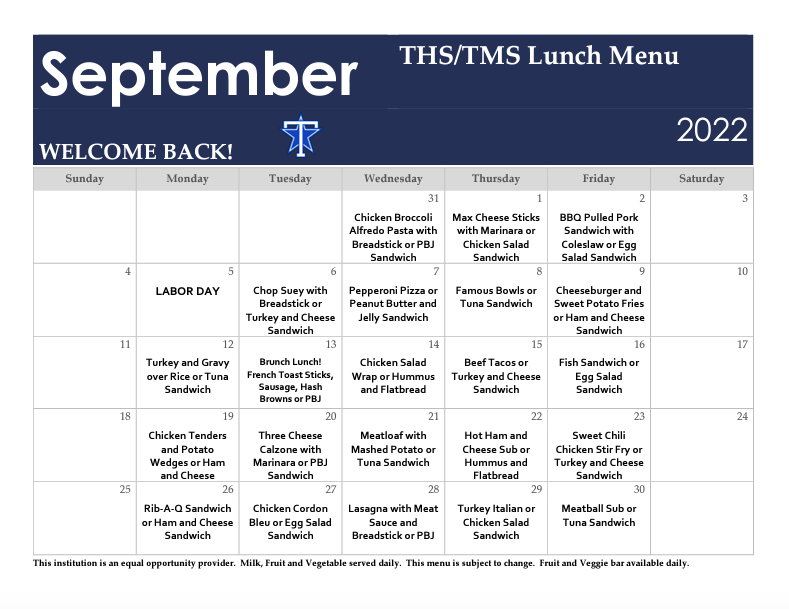 Please join us for the 2022 Open House at Telstar, on Monday, August 29th!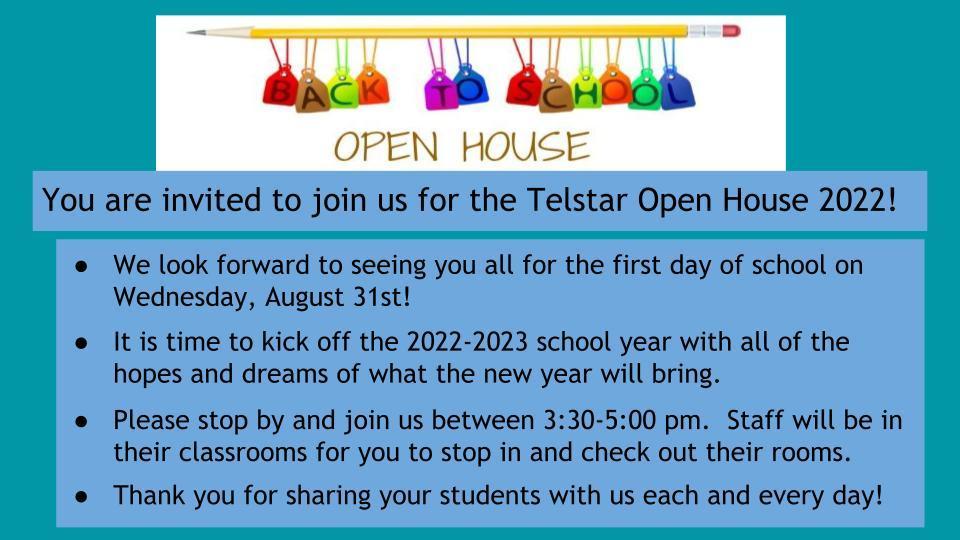 Tonight, Wednesday, August 17th, there will be no THS Soccer practice tonight. Field hockey and football will practice indoors. Thank you.
The Baseball Awards will be presented in the cafeteria during RTI on Monday, June 13, 2022 from 12:05-12:30
Tonight the Senior Class of 2022 will be celebrating their A Coming Together which starts at 7pm. Doors will not open for guests until 6:15pm. Each graduate is able to invite up to 4 guests in person. WHAT TV will also be broadcasting live on their networks for others to view at home. We ask that family units space out two seats from each other when inside. Masks will be available at the door for those who would like one.
This is the last week for the Telstar Late Bus for the 2021-2022 school year. Thursday night at 5pm will be the final one. There is no late bus for Friday or next week. Thank you!
This Tuesday 6/7 is the last day for ASA for this school year. Saturday School is all done for 2021-2022. Thank you!
The "Meet the School Board Candidate Night" which was rescheduled for tonight at 6:30pm at Telstar unfortunately has to be cancelled. We apologize for this. We still encourage all of our local votes to go out and vote on Tuesday, June 14th! Thank you for understanding.
There will be a Project Graduation Fundraiser this Saturday May 14th from 10-1 at Mac's Car Wash in Bethel. Mac's Car Wash is very generously giving 100% of the proceeds to Project Graduation 2022. Please come support our THS seniors!
The THS Softball Game at Lisbon today has been postponed until Tuesday, May 24th at 3pm as the field conditions at Lisbon are not playable today. The early start time is so some students can get back in time for a class event that evening that starts at 6:30pm. Baseball is still going to their game today at Lisbon on time.
Today's HS Varsity Baseball & Softball rainout is now rescheduled for: Thursday, May 26th 4:00pm at Telstar vs Spruce Mountain
Today's HS baseball and HS softball games have been postponed due to the weather. Softball will still practice after school, baseball will not practice tonight.
The HS games tomorrow 4/29 (baseball & softball) vs Monmouth at Telstar have a new start time. They will start at 4:00pm NOT 5:00 as originally scheduled.
Today's THS baseball & softball games at Lisbon have been postponed until May 5th due to wet conditions.
THS Girls Softball scrimmage on Monday, April 18th with Dirigo is now HOME game at 1pm, not away. Good luck ladies!
Unfortunately due to supply shortages, the menu will have to change. No max cheese sticks for lunch on Thursday, so we will be having BBQ pulled pork sandwiches instead. Have a good day.